For this Arabic inspired pasta with eggplant and mint, I made pasta with spelt flour. Also, I rolled this out not as thin as typical tagliattelle and also left it shorter. I think that went well with this pasta dish.
The eggplant and red onion work well with the feta cheese by themselves. But through the raisins and mint the dish is given a certain special touch.
For the spices, I recommend crushing them with a pestle and mortar: coriander (Coriandrum sativum seeds, not cilantro ;-)), a small red dried chili pepper, cumin seeds, green cardamom capsules and garlic. Cinnamon and tumeric I would add ground. Of course, you can use the already ground versions for the other spices. But the freshly crushed ones give it a more intense flavor. If you like you can also add some anise.
Why the recipe is "Arabic inspired" when pasta is not necessarily Arabic? Well, that's why it's not called "Arabic" but "Arabic inspired". For example, it is not atypical in Arabic cuisine to cook with raisins. Popular spices used in Arab cuisine include cumin, cinnamon, sumac, barberries, zatar, turmeric, cardamom, saffron and chili. Couscous and rice dishes are refined with special spice mixtures such as Ras el Hanout. So let your imagination run wild with the spices.
Wash the eggplants and cut them into slices. Wash the mint leaves, dab them dry and pluck them. Peel and coarsely chop the red onions.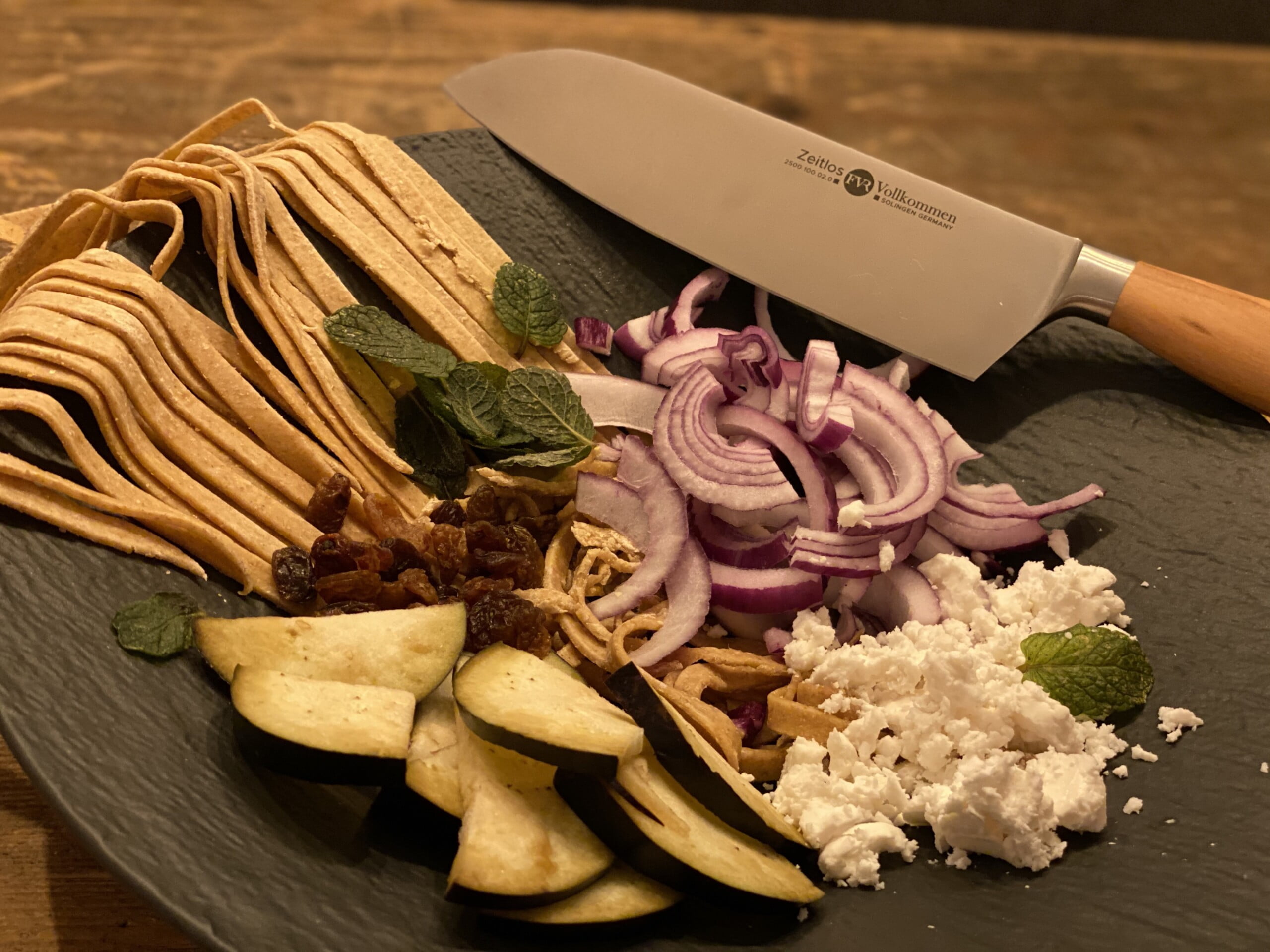 Heat olive oil in a pan and lightly brown onions and eggplants in it.
Cook the pasta in plenty of salted water until al dente.
Drain the pasta and add to the vegetables in the pan. Mix in the raisins and butter and toss until the butter has melted. Season to taste with salt, pepper, rosemary and the other spices.
Arrange in deep plates or bowls and sprinkle with the mint. Crumble the feta and sprinkle over the pasta.