Green spinach pancakes
Green spinach pancakes – a healthy alternative to regular pancakes and yet very tasty. This meal will please pancake lovers, it is suitable if you want to eat something deliciously healthy, if you are on a vegan or vegetarian diet and even kids like it. And if your children don't normally like spinach, don't worry, they won't even notice it 😉
We also use whole spelt flour. Other flours can be used as well. However, in general, spelt flour contains more and higher quality protein, more vitamins and minerals than wheat flour and is considered generally very digestible and healthier than wheat. Whole wheat flour goes very well with this healthy pancake variation and spinach.
Green healthy pancakes - thanks to spinach
Spinach is healthy and rich in vitamins and minerals. Beta-carotene, vitamin C or folic acid are present in larger quantities. Noteworthy is the high content of minerals such as potassium, calcium, magnesium and iron.
Add a few drops of fresh lemon juice to your dough. The advantage of preparing spinach together with vitamin C: It increases the absorption of iron and at the same time inhibits the conversion of nitrate, which may contain nitrite. We recommend using fresh spinach. If you are using frozen spinach, use a little less water as the frozen spinach will be a little more watery. By the way: Due to its shock freezing directly after harvest, frozen spinach contains almost as many nutrients as field-fresh spinach. It is important to puree the fresh spinach as finely as possible. This advice in advance so that you use the right  blender when preparing.
Your choice of sweetener
For sweetening you can of course use normal sugar. As an alternative, coconut blossom sugar is suitable. But also honey or agave syrup can give your pancakes a slight sweetness. Moreover, the dough does not have to be too sweet, you can always use sweet toppings later if you like. Want a little inspiration? Maple syrup, honey, fresh fruits, almond paste, applesauce, grated dark chocolate…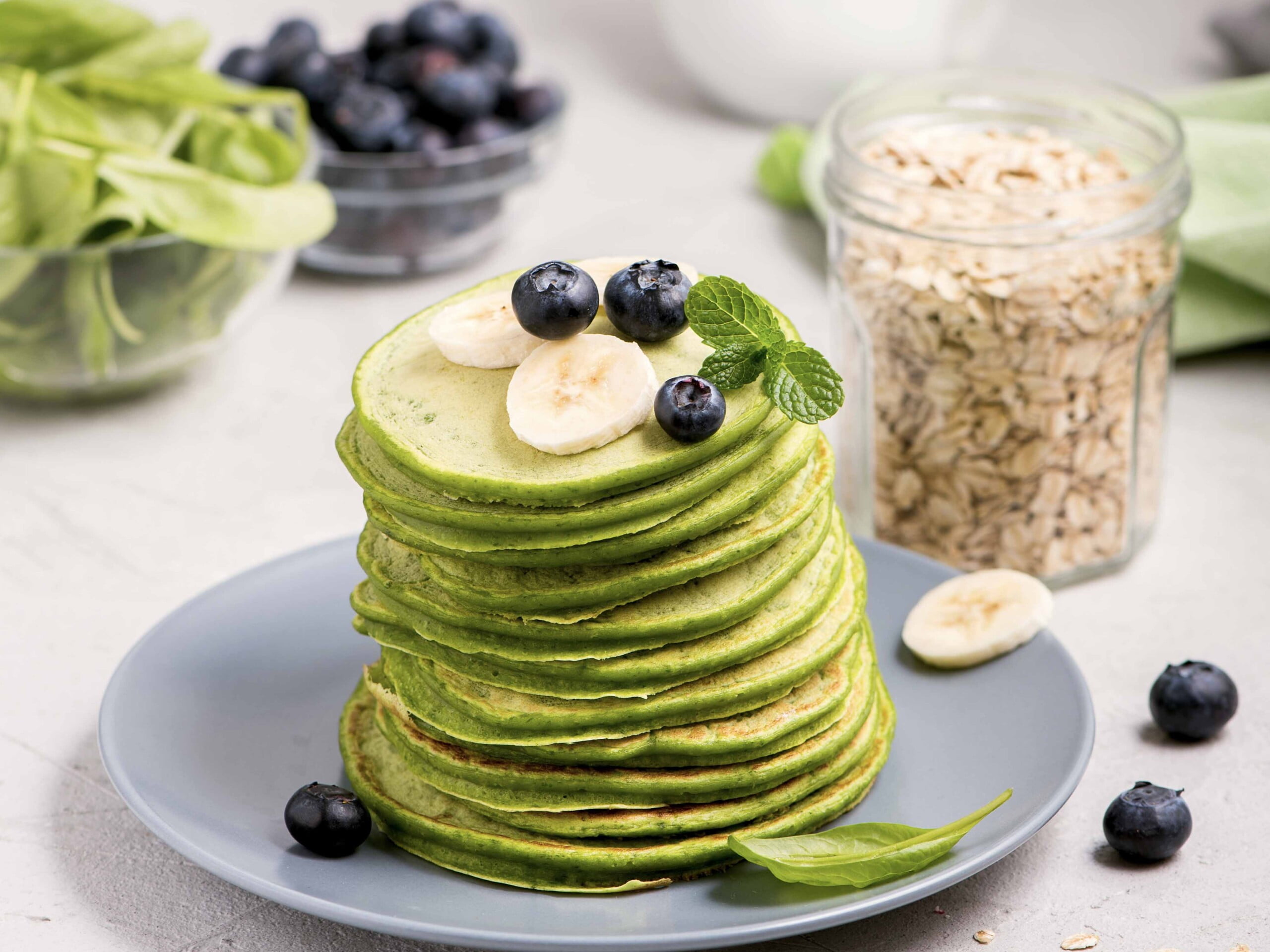 Put all the ingredients together in the blender. The result should be a real porridge or uniform dough, without pieces of spinach.
Let the dough rest for 10 minutes.
Fry in a coated pan, over medium heat. Depending on the pan you will need some oil. However, if the coating is very good, try it without.
Medium heat is quite enough. Rather less than more, so that the pancakes cook through slowly and have time to rise a little. The goal is that they are properly cooked on the inside, but not too dark on the outside.
Serve with a topping of your choice.