Chocolate is the number one most popular sweet in Germany. But forget about boring chocolate from the supermarket. Create your very own varieties and try our chocolate bark from a tray. Beautifully packaged, they make a great homemade gift. And you can prepare the whole chocolate bark very easily. Even without getting pots dirty – all from one tray.
Whether as a spontaneous gift, a little present for Mother's Day, Easter, Christmas, a birthday or just for fun – young and old alike will be delighted with homemade this chocolate bark from a tray! Once the chocolate is spread out on the tray, it doesn't take long and you can decorate it with toppings of your choice to create a sweet gift from the kitchen. Super easy, and spontaneously possible at any time. Depending on your preferences, you can also change the composition of the different chocolates or omit a variety.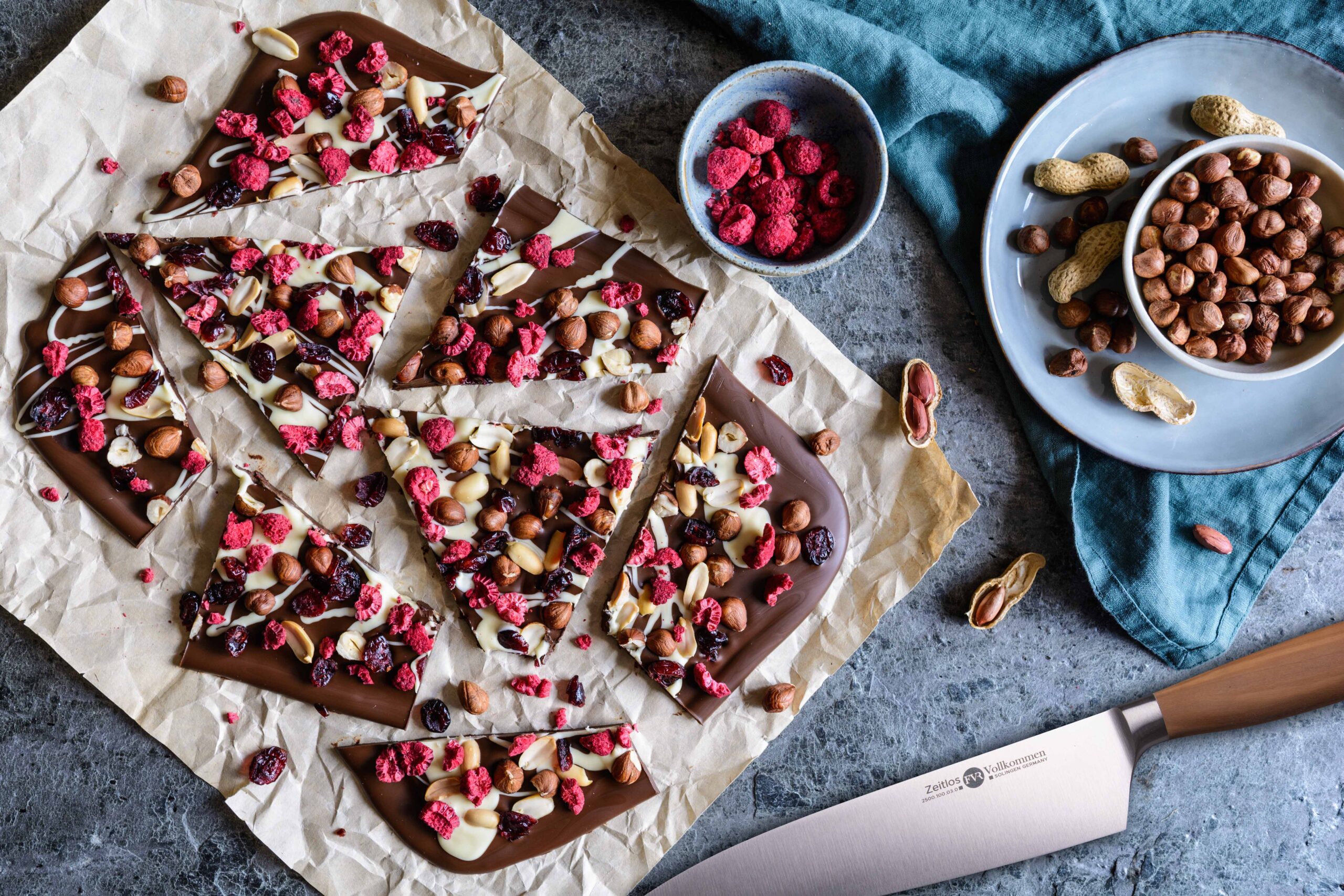 Toppings for your Chocolate Bark from a Tray
There are no limits to your imagination when it comes to the toppings. We have put together a few ideas for you:
One of the most popular German chocolate varieties is chocolate with hazelnuts. Nuts and seeds are therefore very suitable as toppings for the chocolate bark from a tray (roasted, salted or candied). Use pistachios, peanuts, hazelnuts, Brazil nuts, pecans, cashews, almonds, walnuts, coconut flakes, sunflower or pumpkin seeds or roasted sesame seeds.
In chocolate fondue, fruits are mainly dipped in the chocolate. However, they are also suitable as toppings for homemade Chocolate Bark From a Tray: berries (for example, dried), dried apple slices, raisins, banana chips, (rum) raisins, dried fruits such as apricots, mango, pineapple, apple, cranberries, dates, candied ginger, candied orange peel and candied lemon peel.
Chocolate Bark From a Tray can also be combined with other sweets and these can be used as sweet and colorful toppings: Chocolate lentils, (mini) marshmallows, gummy bears, colorful sprinkles, mini salted pretzels, popcorn, cornflakes, candy bar and cookie pieces, marzipan pieces, rice crisps, toffee pieces, brittle sprinkles, licorice, chocolate coffee beans, cocoa nibs, peanut butter, cashew jam or nougat.
If you want to create a very sophisticated Chocolate Bark From a Tray, you can use flowers, herbs or spice. For example, edible flowers, dried lavender or rosemary, coarse sea salt, chili flakes or chili threads, saffron threads, pink pepper berries and cinnamon are suitable.
Homemade gift: Chocolate Bark From a Tray
Chocolate Bark From a Tray make a great gift for a variety of occasions.
Best friend variation: freeze-dried raspberries, sesame seeds, edible flowers and toffee.
Idea for mom for Mother's Day: mixed roasted nuts, raisins, coffee beans and some cinnamon.
For the little ones it's best to do a colorful mix with chocolate lentils and sugar sprinkles, plus mini salted pretzels and mini marshmallows.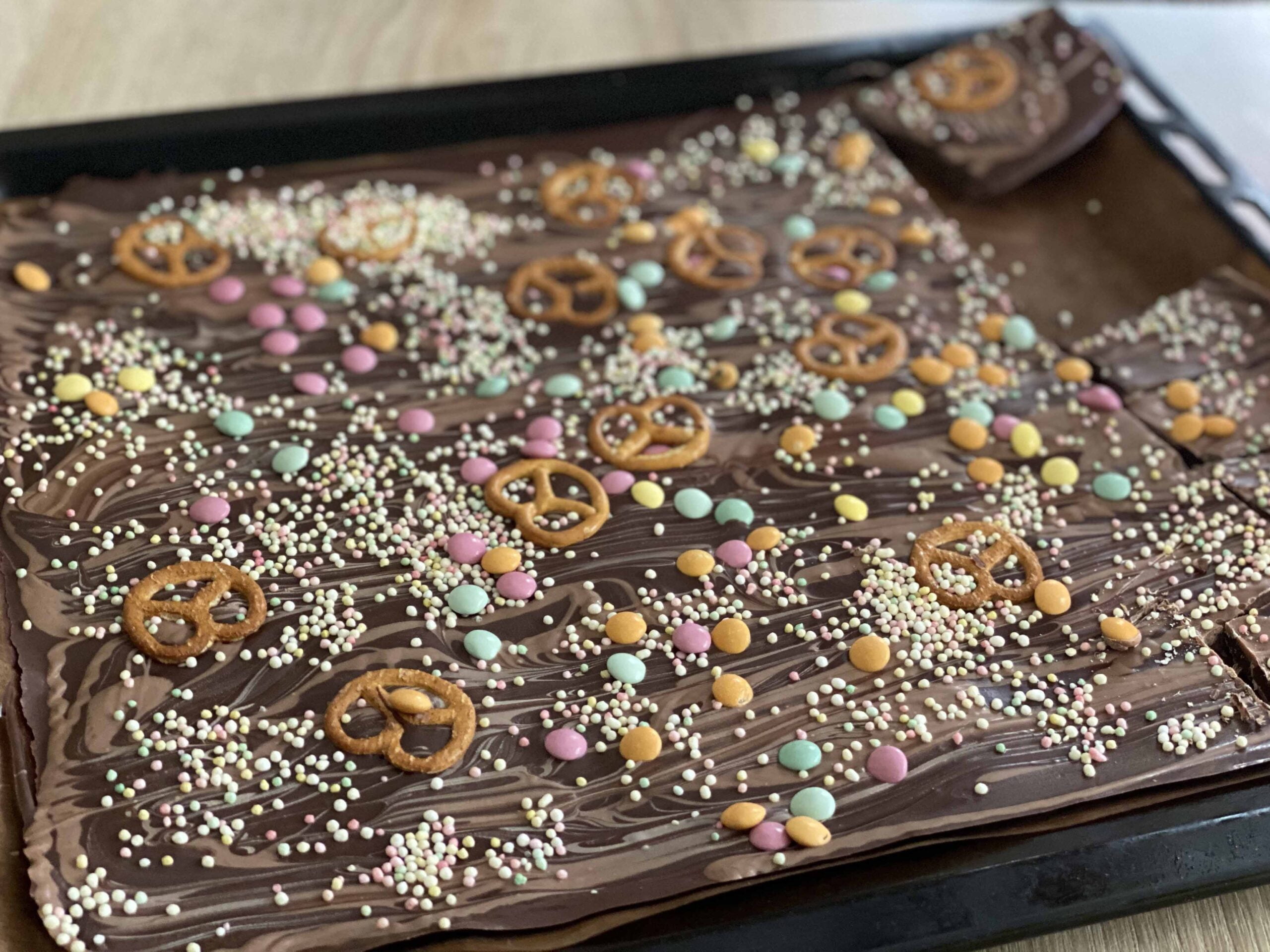 Break chocolate bars into even pieces. Line baking sheet with parchment paper and spread chocolate on it so that varieties are well mixed.
Melt the chocolate for approx. 10 minutes at 50 °C in a preheated oven. Remove tray from oven and mix the melted chocolate with a wooden stick to create a pretty pattern. While the chocolate is still warm, decorate evenly with toppings of your choice.
Allow chocolate to set completely. Remove from baking paper, cut with the FVR Zeitlos Chef's Knife or break into pieces and place in a jar.